Sustainability
Smallholder farmers account for around 40% of total global oil palm production. They also play a vital role in the world's food systems, producing around one third of the food supply. Collaborating with smallholders is not only critical in achieving the sustainability goals of the palm oil industry, but in addressing poverty and improving food security on a global scale.
SIPEF collaborates with over 10 000 oil palm, rubber and tea smallholder members in Indonesia and Papua New Guinea. An important part of this engagement is ensuring that the implementation of responsible practices is made accessible and workable. Empowering smallholders in this way can significantly contribute to reducing the impacts of agricultural production on natural ecosystems.
Supporting smallholders also has a positive impact on their livelihoods through increased yields, improved production quality, higher incomes and access to international markets.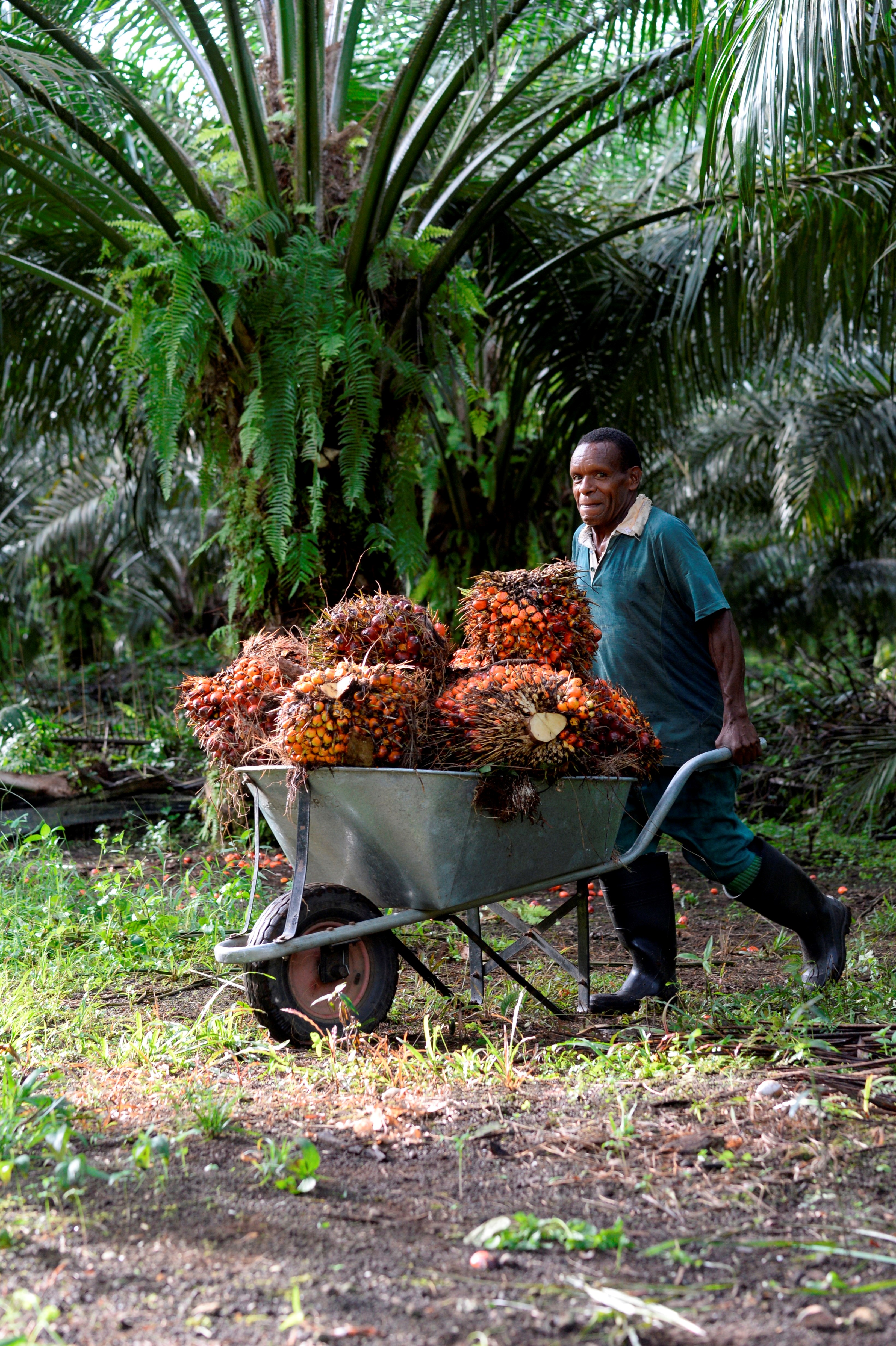 SIPEF's programmes and services have a strong focus on inclusivity, best management practices, certification and lowering cost barriers, enabling smallholder members to participate in sustainable industries and to benefit from the Group's technical expertise. As the vast majority of the smallholders SIPEF works with produce palm, the Company's approach is primarily geared towards oil palm production.
Oil Palm Smallholders
SIPEF oil palm smallholder members cover over 20 000 hectares of production area. More than 9 000 members are involved in the Group's oil palm smallholder programmes in Indonesia and Papua New Guinea. SIPEF engages with five main types of smallholders: 'associated', 'company managed', 'village', 'associated buy/sell' and 'associated seedling' smallholders. 
Through its programmes, SIPEF provides its smallholders with extension services, including agronomic advice and quality seedlings for improved yields. The Company conducts trainings to socialise its policies and to give guidance on responsible practices and certification requirements. Where appropriate, SIPEF also provides support in the form of zero-or low-interest loans for seedlings and tools.
SIPEF further tailors its approach and activities according to country of operation and smallholder type, taking into account the different legal requirements, as well as local contexts and challenges. In Papua New Guinea, for example, SIPEF works closely together with research partners to understand and address the local risks for the oil palm smallholder farmers who supply its mills in West New Britain. This includes research and development on integrated pest management, pest and disease control, and outreach and awareness, as well as projects related to livelihoods and community development.
More details on the different types of smallholders working with SIPEF and its country-specific work can be found on the SIPEF Indonesia and SIPEF Papua New Guinea local websites.
RSPO Certification
Around 80% of SIPEF's total smallholder production area has been certified in accordance with the Roundtable on Sustainable Palm Oil (RSPO) standard.
A key challenge with regards to achieving 100% certification is linked with the regulation in Indonesia that requires an equivalent of 20% of any new concession rights agreement areas (Hak Guna Usaha – HGU) to be allocated for smallholders. In particular, the regulation was amended in 2017 to also include all renewals of HGU concessions.
To ensure compliance, SIPEF has added and engaged new smallholders, for which it will take time to integrate and include in a certified supply base. At present, crops from smallholders that are still in the process of certification are processed separately by third-party mills, in order to maintain the fully certified status of SIPEF's own mills while the Company works with the smallholders on their integration into its certified supply base.
In order to address the risk of integrating the new smallholders, SIPEF issued a Responsible Purchasing Policy. The policy supports the process of incorporating smallholders into SIPEF's supply base with a focus on critical criteria for compliance and selection.
A key objective of the policy is to ensure that risks are assessed in relation to legal precepts, commitment to no deforestation, Free, Prior and Informed Consent (FPIC) and traceability. It also provides the framework for the procedures required to monitor, support, evaluate progress, and review participation of non-compliant smallholders.
Information on the procedures for assessing and managing supplier related risks can be found on the Traceability and Risk Management page of SIPEF's website.