About Hargy Oil Palms Ltd
Hargy Oil Palms Limited (HOPL) was incorporated in 1976 and is wholly owned by SIPEF, a Belgium company headquartered at Kasteel Calesberg, Calesbergdreef 5, Schoten.
HOPL is a major grower and producer of Fresh Fruit Bunches (FFB) in Papua New Guinea. It has 6 oil palm plantations regrouped under three estates, together with 3 646 independent smallholder plantations that supply its oil palm mills on a regular basis. Crop production is organised under a nucleus estate model, with three mill processing facilities for the FFB. An approximate total of 60 percent of FFB is produced by HOPL whilst a further 40 percent is produced by independent smallholders. Their livelihood is sustained through this activity. Within 20 hours of harvesting, the FFB are loaded onto trucks and transported to the nearest mill for oil extraction. This process is crucial for ensuring production of premium quality oil that is in demand for export to the European market. Palm oil exported by the company is always in demand due to compliance with the stringent rules of the Roundtable on Sustainable Palm Oil (RSPO) and criteria which govern its plantation business. This process therefore guarantees consistent demand from customers who are willing to pay a premium price.
Core values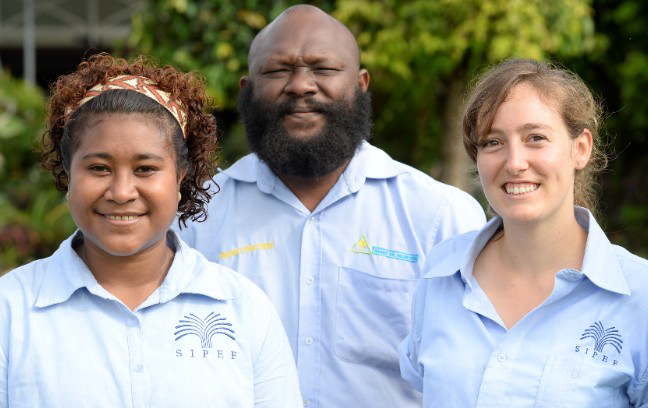 Common values are embraced and shared by all at Hargy Oil Palms Limited (HOPL). These values focus on the responsibility to company stakeholders and to each other. It is the positive attitude in the workplace which demonstrates employees' commitment to these values and acceptance of the responsibilities. The positive business reputation of HOPL as an environmentally sustainable entity is the result of collective efforts to promote and uphold these shared values.
The Company and its Staff and employees act honestly and respectfully.
Agreements are honoured and acted on in a good faith.
Duties and responsibilities are fulfilled with mutual respect and integrity.
All staff and employees act in a fair and cooperative manner.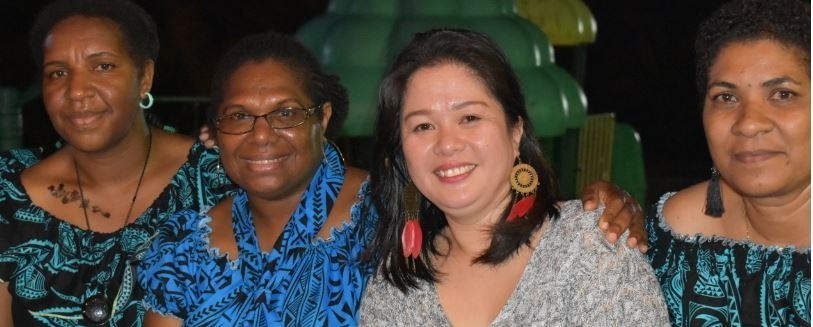 Company Mission & Vision
Hargy Oil Palms Limited aspires to be an internationally competitive, high yielding, low cost oil palm plantation and milling company, producing sustainable palm oil.
Hargy Oil Palms Limited will be sustainably producing no less than 170 000 tonnes of quality oil from 15 000 hectares of own plantation and 14 000 hectares of smallholders
On 23 July 1976, Hargy Oil Palms Limited (HOPL) was established as a joint venture agricultural business with the Papua New Guinea Government having 50% shareholding interest, whilst SIPEF and Warren Plantations each had 25% share ownership interests. After Papua New Guinea gained independence in 1975, the Government became keenly interested in promoting economic growth through establishing its agricultural industry, especially in the oil palm sector in West New Britain Province. It sought out joint venture partners, and SIPEF still remains as the original and current sole shareholder of HOPL. After Warren Plantations sold off its shares to SIPEF in 1984, the National Government later sold all its shares in 2003. Since then HOPL has grown from strength to strength over the years. SIPEF has always had and continues to have full responsibility for the management, operations, processing and international marketing of the company's palm oil products.
"The word 'Hargy' originated from a United States Army Air Force Major by the name of Fred Hargesheimer. He was a fighter pilot engaged in battle against the Japanese army over the South Pacific region during World War II. Whilst engaged in fighting in Papua New Guinea, his plane was shot down into the jungle at Bialla, West New Britain Province in June 1943. Fortunately, the local people came to Fred's rescue, protected him against enemy forces and nursed him back to full recovery. This act of kindness from the indigenous people moved Fred to show his appreciation by establishing local community schools as well as the Airmen's Memorial Foundation after the war had ended. The schools are located jn the villages of Ewasse and Noau, and receive regular support from HOPL. Further information can be found at https://en.wikipedia.org/wiki/Fred_Hargesheimer
HOPL has three estates of plantations located along the coast of the island of New Britain. The company estate landbank remains largely unchanged with a total of 13 707 hectares planted with oil palms. As a fully compliant producer of certified sustainable palm oil, all planted hectares are RSPO certified. A commitment has been made to no deforestation as in the SIPEF Responsible Plantations Policy (RPP).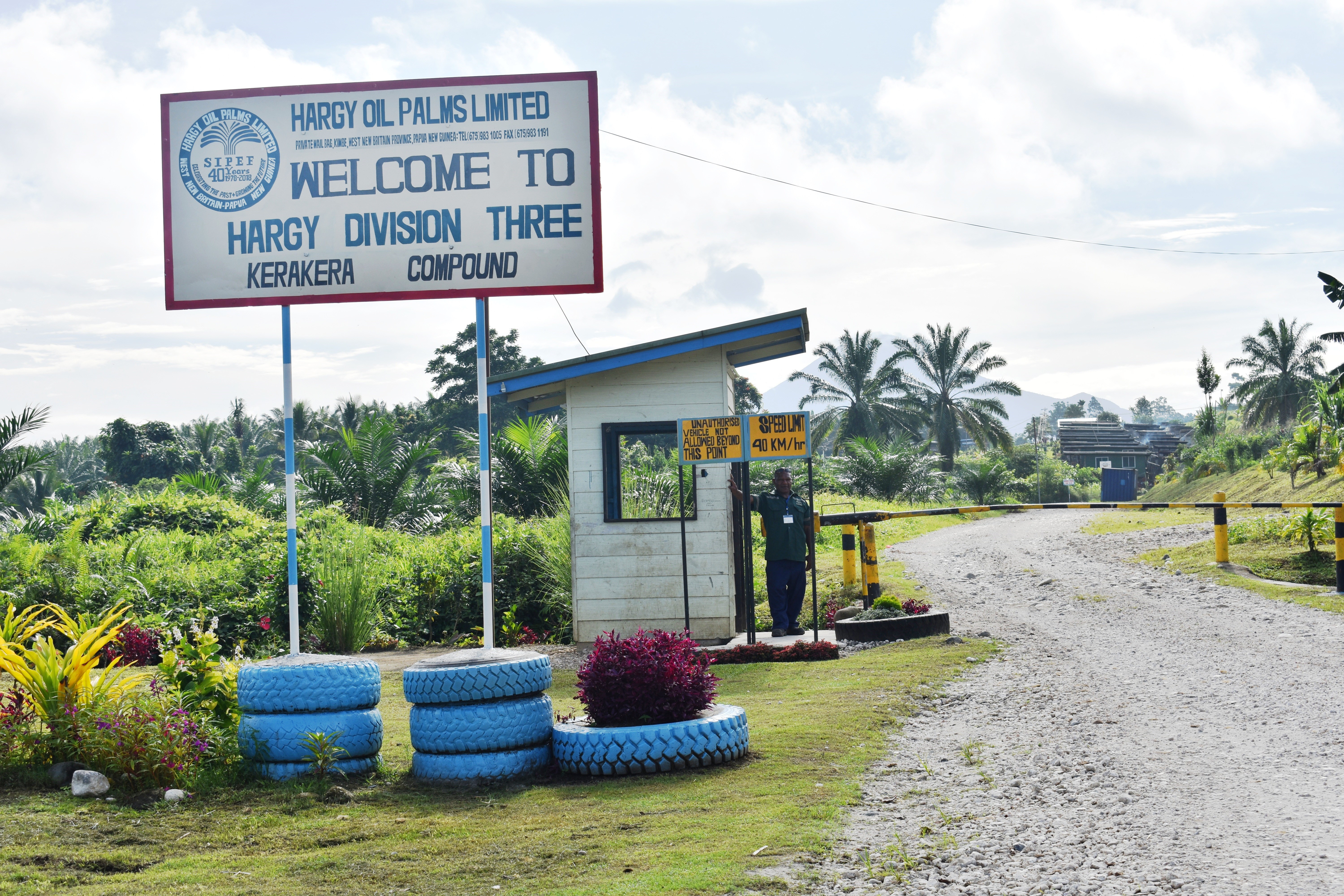 Hargy estate
The Hargy estate, 4 472 hectares, is divided into two very different plantations: Hargy and Barema. They are located 30 kilometres apart and have their own palm oil mills (POM): Hargy mill and Barema mill. Barema and Hargy plantations are dissimilar in the variety of tree age, landscape and management units. Hargy is composed of three different compounds, due to how the plantation is spread out in three divisions, whereas Barema has only one central employee compound, surrounded by its plantation, which is in two similar divisions.
Hargy plantation is the oldest plantation within HOPL. The first palm was planted in 1976.
It is located in a hilly landscape, partly on the lower flanks of the Hargy caldera. This plantation of 2 573 hectares consists of a variety of planting years, and has been undergoing its third planting in the last five years, with about 52% of immature palms as per 2019. It still has slightly over 400 hectares to be replanted within the next two years.
Barema plantation is 1 900 hectares and located about 30 kilometres farther up the coast. It consists of a first planting that started in 2006. These peak age palms on relatively flat land are currently the best yielding fields, with a three-year average yield of 31 tonnes per hectare. Yields in this plantation have been enhanced through Empty Fruit Bunch (EFB) application on low yielding blocks that were poor in organic matter.
Navo estate
Located 55 kilometres from HOPL main office, Navo estate is almost fully mature (99%), with an area of 6 648 hectares divided into three plantations: Kiba, Atata and Ibana. The first trees at Navo estate were planted in 1984, and the first replanting for Navo estate started in 2010. More replanting will continue within the next few years, as palms attain 20 years of age.
The 1 414 hectares of new plantings between 2011 and 2016 at the lease-leaseback ("LLB") plantations of Sena, Vamakuma and Remailing have been integrated into this estate. In 2019, 77 hectares were replanted in Kiba plantation, being the only immature areas in Navo estate.
The Navo palm oil mill is located at the centre of this estate and receives from it about 55% of the crop, the others being 29% from Pandi estate and 16% from the smallholders located around Mt Ulawun.
Navo estate also comprises the HOPL nursery, supplying seedlings to all HOPL plantations and smallholders.
Pandi estate
Further north about 50 kilometres is the Pandi estate, established in 2010 with a total of 2 587 hectares, of which 95 hectares are immature. The estate is very different from the two other estates regarding land tenure. Indeed, it is made up mainly of several LLB areas, where the local landowners have acquired the land title and have subleased the land and management to HOPL. The sublease agreement is for 25 years.
They are completely integrated into the company management system and therefore production can be closely monitored and tracked. Yields have increased in line with the increasing age of the palms. All Pandi estate FFB crop is transported to Navo mill.
Mills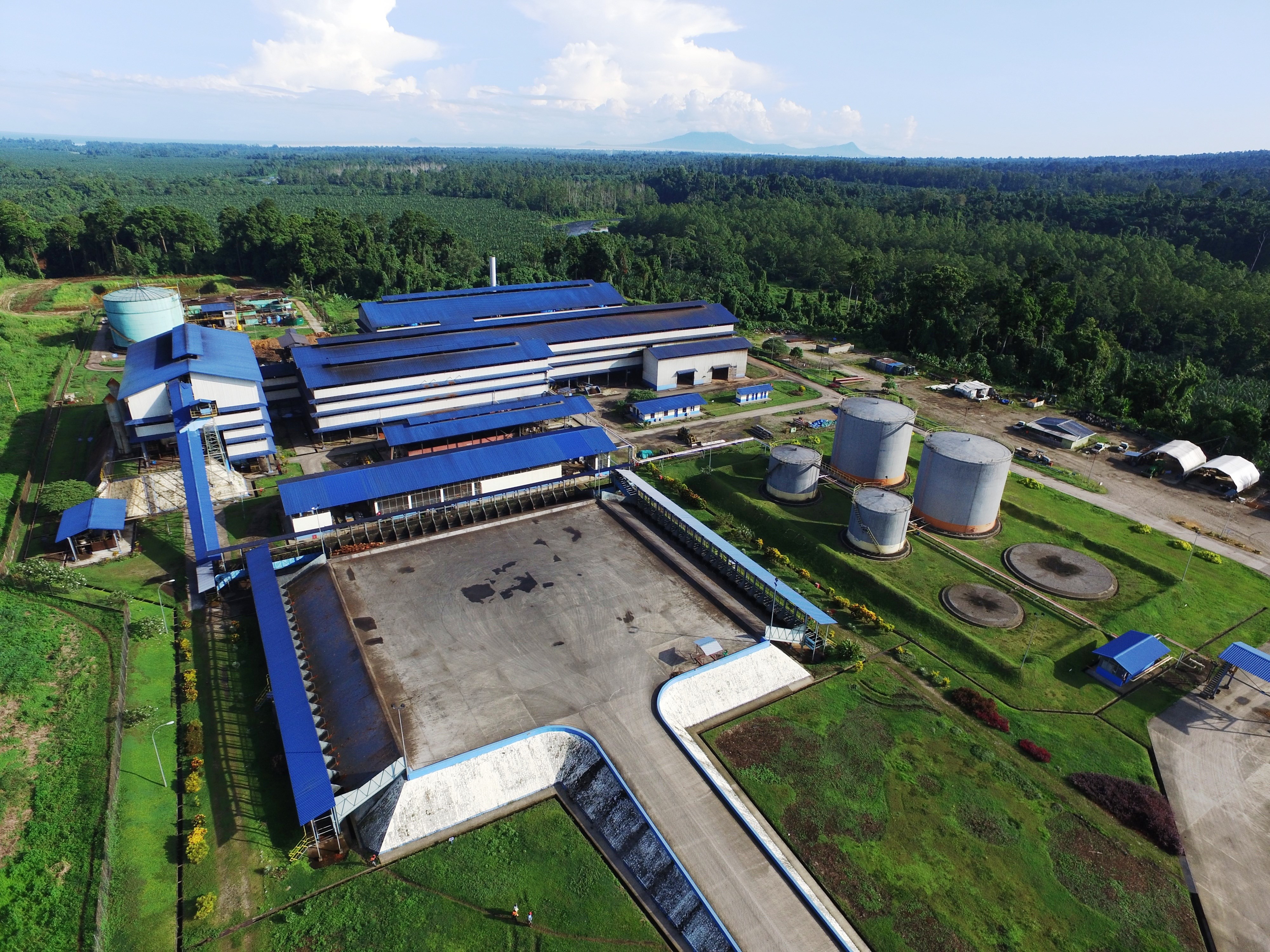 Hargy Oil Palms Limited (HOPL) owns and operates three palm oil mills. Each mill has the capacity to produce 45 tonnes of palm oil per hour. The total milling capacity for producing both crude palm oil (CPO) and crude palm kernel oil (CPKO) is at the rate of 135 tonnes and 10 tonnes per hour respectively, in strict compliance with RSPO Principles and Criteria.
Both the Hargy and Navo palm oil mills have a conventionally designed system which uses a horizontal cage steriliser with an effluent pond system when extracting oil from FFB.
In contrast, the Barema palm oil mill operates using a hydraulic tilting steriliser system, as well as utilising methane gas that is captured and converted into renewable energy to generate electricity for the mill.
Management
The top management structure is shaped as an Executive Committee, composed of the GM, the Company Secretary and 6 Departments Heads.